When I sat down to write this, I did a quick search on Twitter that showed over 4,000 updates to the hashtag #NewProfilePic in the previous hour.
You know what it's like – we scour our photo libraries for the perfect profile pic for our social accounts. One that is quintessentially us, one that highlights all (and only) our best features. Why? Because we want our network of friends to see us in the best possible light, one that we control.
The process of choosing a profile picture feels totally natural when you're picking one for yourself, but what happens when it's time to pick a profile picture for accounts you monitor as part of a job? What then?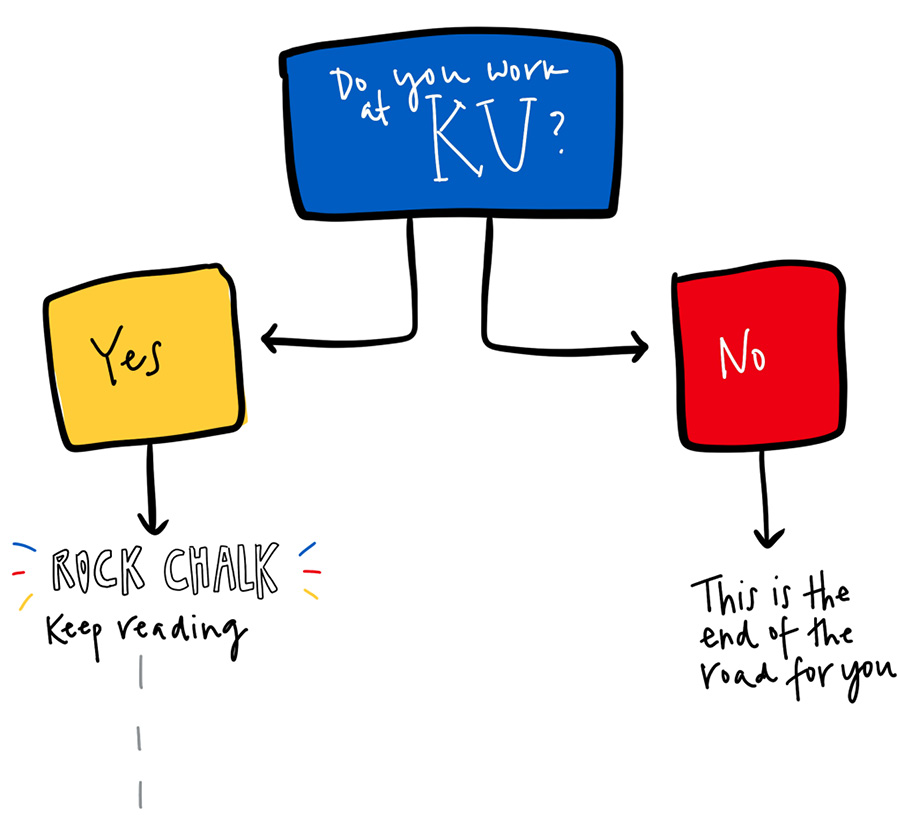 Creating a social avatar for your KU social accounts
Figuring out what your social avatar should be for your KU accounts can be challenging. Brands often default to using their logo, which is great — but we have a lot of social accounts on campus, and we can't look exactly the same. What we can do is look enough alike that we all benefit from (and build up) KU's brand equity, while maintaining a bit of individuality to set us apart.
KU now has a customizable template that allows you to create social avatars that align with the visual identity of the brand. This photoshop template comes with a handy "how-to" guide, so don't worry if you don't have a lot of experience with Photoshop. Have a short name? We got you. Long name? No problem. Super long name that just needs an acronym? Let's do it!

Some of us have names that just won't work with the template, and some of us don't need to include their department name in the profile picture – remember, these avatars are super small on screen, and text can often be hard to read. Don't worry, we thought of that too. We put together a collection of KU-themed images you can download and use right away. No photoshop skills required, just download the image you want and run with it!
Pro tips
As you begin the process of creating your new social avatar, keep a few things in mind:
Update all your profiles at the same time. Once you've created or chosen your new social avatar, make sure all your profiles are consistent.
Ask for help if you need it! If you start this process and feel a bit lost, ask a communicator or graphic designer to assist you. If that's not an option, reach out to us – we'll figure it out together!
When in doubt, refer to the brand center – the go-to resource for all things brand related. For social media, you can find guidelines, download branded avatars, review best practices, and check out the library of brand hashtags. Beyond resources to help with social media, you'll find brand colors, the editorial style guide, our community blog that shares ton of great insights from our office, and much more. In the follow-up email we send next week, you'll get a link to the brand center and you can check it all out from there!