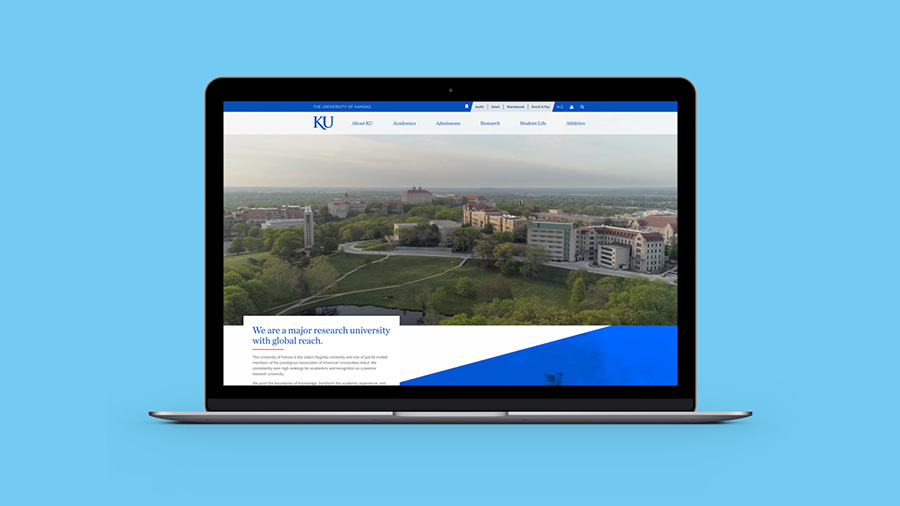 So, you've built a website. You've spent hours of hard work creating something functional and informational. You may think that the process is complete, but now it's time to analyze how the site is performing. Luckily, KU already has Google Analytics coding on all its sites. All you need to do is start asking questions and digging into the data to find answers.
Google Analytics can be overwhelming if you don't know where to start. Here are a few key metrics you should consider tracking.
How many people visit my site?
Pageview allows you to see how many people are visiting your site and which pages are the most popular. Pageviews can be broken down by date, compared to previous periods, and layered with secondary data points. Understanding which pages are most relevant can help you keep your site updated and direct traffic to the best page.
How to get there: Behavior > Site Content > All Pages
How long does someone stay on my site?
Google Analytics records the average time per page. A page with informational content should have a high session average, signifying users are spending time reading the page. However, a navigational page should have a low average time per page, indicating users are finding their next page quickly. Checking average time on page can show you the most interesting pages, as well as pages that may be causing confusion.
How to get there: Behavior > Site Content > All Pages
How do people get to my site?
Google Analytics allows you to see traffic from many different channels. Some of the channels show up automatically, such as Direct and Organic Search. Other channels require set up to track correctly. This includes UTM links in email and social, and connecting Google AdWords accounts for paid search.  Viewing site metrics by channel will help you understand the value of your marketing efforts, as well as organic behavior.
How to get there: Acquisition > All Traffic > Channels
Where do people leave my site?
Knowing where someone leaves the site is just as important as knowing how someone gets to your site. Some pages — such as an application complete page or a blog site post — have naturally high exit rates. A high exit rate on these types of pages is a good indication the users completed the intended behavior flow. However, a high exit rate on pages that are not natural exit points, like a homepage, could indicate the next step is not clear or the navigation leads to irrelevant content.
How to get there: Behavior > Site Content > Exit Pages
How many people leave my site without engaging?
Bounce rate is the percentage of users whosessions in which users viewed only one page leave the site after viewing only one page and not did not take a secondary action. If the page is informational only, and you are not trying to encourage an additional action, a high bounce rate is nothing to worry about. However, high bounce rates on other kinds of pages could indicate that there is nothing to engage the visitor further or that they did not find the information they were expecting.
How to get there: Behavior > Site Content > All Pages
Who is viewing my site?
The audience section of Google Analytics has a wealth of demographic, location, interest, and device information. Check these metrics to determine if you a hitting your target audience or to identify new audience segments. This section also allows you to view what types of devices are used to view your site. The audience section has many variables to explore that can help you truly understand your users.
How to get there: Audience > Overview
How does someone navigate my site?
The behavior flow is a great visual to see how users navigate multiple pages within a site. You can use this tool to verify whether people are moving along the intended behavior path or using other paths. The behavior flow illustrates the page depth per session as well as any backtracking. You can easily drill down to specific landing pages, sources, or any other collected data point.  
How to get there: Behavior > Behavior Flow
How do I get advanced analytics?
If you already use Google Analytics for tracking but have additional data questions, consider Google Tag Manager. With Tag Manager, you can customize tracking variables like link clicks, page scroll depth, and typed search terms. Tag Manager requires additional setup — contact Marketing Communications for help getting started.
Ready to get started with Google Analytics, but need some additional help? Contact Marketing Communications for more information. We can help with setup or schedule a tutorial.